Haddon Heights Christian School
Haddon Heights Christian School & Preschool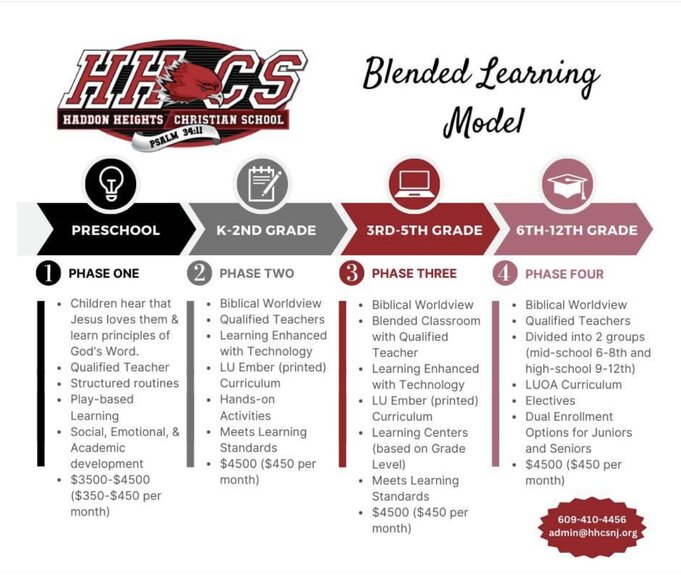 Haddon Heights Christian School breaks the mold of traditional education by offering enhanced learning through Liberty University Online Academy! Check out the above graphic to see how we integrate online learning in our school.
Now Enrolling for the 2023-2024 school year for Pre-K through 12th grade. Contact us today to learn more about our school! You can email us at admin@hhcsnj.org or call 856-547-3579(ext. 2).
Haddon Heights Christian School
A ministry of Haddon Heights Baptist Church & a fully accredited affiliate school of Liberty University Online Academy (LUOA)
We are offering Kindergarten through 12th grade with full day classes (on campus) from 8am-3pm Monday through Friday.
>>> For more information about HHCS, check out our Parent Information Packet or email us at admin@hhcsnj.org!
"Come, my children, and listen to me, and I will teach you to fear the LORD." - Psalm 34:11 NLT
HHCS Admissions Documents
LUOA Website
Learn more about the LUOA curriculum
Click here
Current Students
Click below to pay tuition
Click here
Introducing Haddon Hawk!
Check out our new mascot, Haddon the Hawk! He is looking for students. Are you one of them?